School
Amenities
The school has extended productive amenities for the all around development of students and every year additional facilities are being provided and added for further updation for the welfare of the students.
---
SCHOOL PLAY GROUND
---
The vast ground of the school itself symbolises the vastness of school vision. We are committed to instill concept of sustainability in our students and staff. Hands on experience in storage of energy, concept of live projects on recycling and waste management are part of curriculum. Shantiniketan culture has been imbibed through various artistically designed corners for the specific purpose of developing aesthetism and belongingness in our students. Play ground is equipped with facilities to play Basketball, Football, Cricket, Volleyball, Kho-Kho, Sketting alogwith athletics.
---
GAYATRI HALL
---
The Central hall of the school bears the spirit of faith, will power & dynamism. It is important for us that every child is groomed in a way where he/she is in sync with the modern education but is still a righteous child with high moral values. The decor of the Gayatri Hall speaks in itself about the strong foundation of school & the philosophy of school. This is the place from where positivity and vigour emanates every new day for school momentum.
---
BOTANICAL GARDEN
---
Our school has botanical gardens including cactus garden, organic farming, medicinal plants nursery and mushrooming which provides children the opportunity to experience the magnificence and vast variation in trees, plants and herbs. Children undertake care of plants and learn about soil, flora & fauna and learn a lot in real sense.
LIBRARY - A TREASURE FOR KNOWLEDGE
---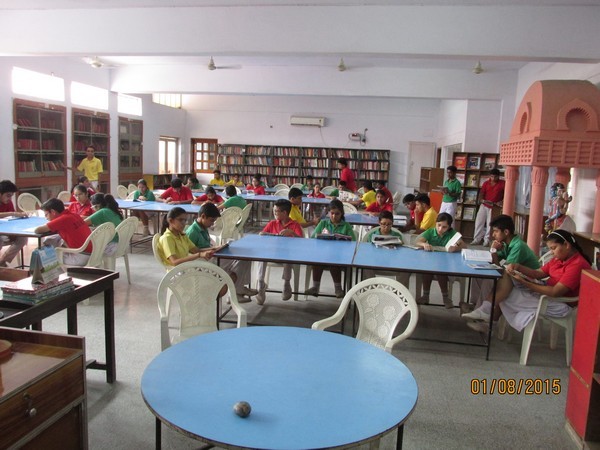 In addition to our library stocked with more than 25000 books we also have an extensive e-library which can be assessed by students in the school. Students can use e-library to prepare presentations of their work and broaden their knowledge about the concepts taught in the classes which also helps them to improve communication skills. Students practise conversing in english, record their work and take part in interactive sessions to improve their language skills while experiencing fun with learning.
Library is the heart of any academic institution and plays a key role in all academic activities. It is an essential part of one's learning. Well stocked racks, full of standard and recommended books attracts student to spend more time in library. Reputed journals on related subjects are available in plenty to make the students highly informed with the latest trends.
Total Books = 25000
Monthly Periodicals = 20
Daily Newspapers = 6
---
COMPUTER LAB - A DIGITAL WORLD
---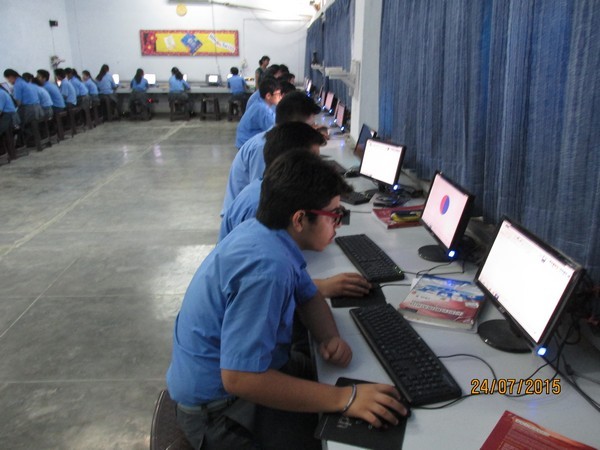 To meet the latest demand of IT challenges, two labs equipped with the latest technology and meeting with the prescribed syllabus have been set in the school. The course and the time table has been designed to suit all levels of students. The logics and basics are stressed to enable the students to go in easily for higher levels in this field. We are also keen to teach children about personal safety in using social media to ensure they are fully aware of the health and social risks involved. Parents can access day to day progress of the children and school updates via school website and FB page.
---
LABS - EXPERIMENTAL LEARNING
---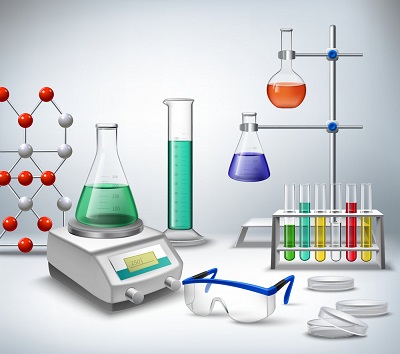 The school has well equipped labs with sophisticated and latest instrument & technology as separate Computer Labs for Junior and Senior Wing, Biology Lab, Physics Lab, Chemistry Lab, History Lab, Geography Lab, Arts & Craft Room, Mathematics Lab, Home Science Lab & separate Science Lab for junior classes. Where the students are taught with learn by doing methods.
The School provides facility of Art & Crafts Painting and Sculpture. The broad objective of the teaching programme is not only to explore the evolution and forms of arts, but also to bring about an integrated approach to the study of creativity. An inter-disciplinary approach is incorporated in the syllabi. Apart from the core faculty, experts in various fields and guest faculty of national and international repute teach subjects in the School.
| Sr. No. | Labs | H.O.D.'s |
| --- | --- | --- |
| 1. | Physics Lab | Mrs. Harsh Kalra |
| 2. | Chemistry Lab | Mrs. Monica Chandna |
| 3. | Biology Lab | Mrs. Pavitra |
| 4. | Mathematics Lab | Mrs. Neeta Kohli |
| 5. | Computer Lab | Mrs. Shelly Dahiya |
| 6. | English Language Lab | Mrs. Ranjeeta |
| 7. | Geography Lab | Mr. Jigyasa |
| 8. | Audio - Visual Lab | Mr. Kuldeep |
| 9. | Art & Craft Room | Mrs. Reena Chaudhary |
---
DANCE & MUSIC - PERFORMING ARTS
---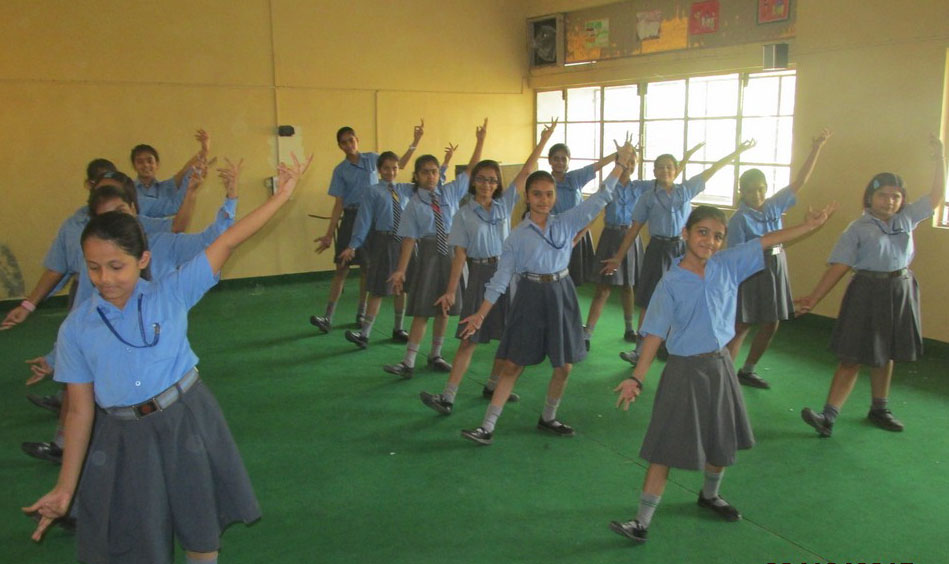 Our school provides facilities to students for self expression via music and dance through expert mentors. Students who want to seriously sing or play an instrument or learn formal dance are given additional support abide school curriculum. Students are encouraged to demonstrate their skills on different occasions and school events.
To enhance the skill of performing art among the students, school has different dance and music hall with specialized teacher to teach the students classical, western style of music and dance. The music and dance programme at JDKPS is developed to bring out the creativity in our students and make them independent learners. Dance and music lessons are conducted in a specially designed performance rooms and students learn singing by trained professionals of Indian Classical and Western Genres. Students acquire and consolidate a range of basic musical skills, knowledge and understanding, through the activities of listening, performing and composing. By studying music and dance, students become aware of how artists communicate by engaging, becoming informed, and reflective and critical practitioners. There is adequate scope for students to develop their own skill sets as well as learning to become part of a group of performers. Students are given ample scope to participate in competitions and performances throughout the year.
---
YOGA & MEDITATION - MENTAL, SPIRITUAL & PHYSICAL PRACTICE
---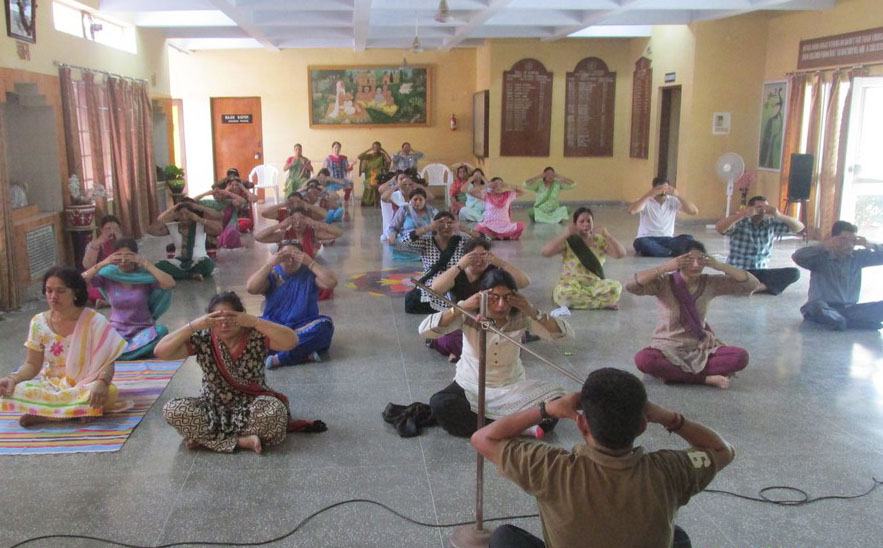 To develop positive and healthy mindset, meditation practices & yoga abhyas during the yoga periods and persona session in addition to morning assembly is done as a routine. Experts and Spiritual teachers are also invited for the meditation sessions.
Yoga includes the practices to maintain physical health, to develop mental clarity to achieve emotional harmony. School encourages practice of yoga and meditation daily, so that students may be benefitted by it. Yoga is a mental, spiritual and physical practice that helps one attain inner peace.
---
TRANSPORT - CONVEYANCE FACILITY
---
To provide safe, reliable, economical and accessible student transportation, school has three buses which cover the city area. All the buses are fitted with CCTV, GPS, Fire Extinguisher & First Aid Kit. These buses also have a conductor and female attendant for the safety of young students.
---
Audio-Visual Room for Interactive Learning Sessions
---
The audio-visual room is a place where the students of all classes experience learning in an effective way. The audio-visual method appeals most to the senses. It leaves a deeper impact as it involves greater attention in the act of learning and helps the child to retain the concepts taught through these aids.

Interactive learning sessions are held in the audio visual room which is well equipped with a Projector and a large screen, inbuilt sound system, DVD players, CDs and DVDs on different subjects for different classes.

The school provides training to its teachers in audio visual methods so that they can introduce new teaching techniques. Every teacher acquires a thorough knowledge of handling audio-visual equipment. The teachers use animations, power point presentations and slide shows to bring lessons to life. There is a 24 hour Internet connection for students and teachers to browse different educational sites. CD players are used to make language classes and story telling classes interesting. CDs are used to practice dance, singing, recitation and other communication activities. Here students are also given opportunity to know extra information beyond text books through various programmes.
---
ART & CRAFT
---
In addition to drawing and painting, students explore a wide range of crafts including waste material usage, handmade paper and recycling of paper. Our state of the art facilities are the fine resources to propagate rich Indian Tradition and Culture heritage.
---
THEATRE & ACTIVITIES
---
Our school encourages all students to take part in theatre activities. Students are trained for dramatics skills through gesture, speech, song, nukkad natak, storytelling, music and dance exposures thereby also sharpening their communication as well as public speaking skills.
---
INDOOR SPORTS ROOM
---
School has enriched indoor sports room with the indoor facilities of Table Tennis, Chess, Carom etc. keeping in consideration of individual skills of students for various sports activities. One students have been participating in Chess at National Level also.
---
MEDICAL FACILITIES
---
Special guidance related to health and hygiene is delivered through medical experts. We have the schedule of routine medical check ups by expert medical officers round the year. Health record of students is maintained in their respective documents. School provides medical facilities in case of minor injuries wherever required.
---
SHANTIVAN
---
Enriched with the lush green lawn around, Shantivan is a place completely suitable for peace lovers. One can sit and feel stress free from the worldly matters. It is no less a place providing interspeculations far from the madding crowd. The cooling effect makes the heart soothing and comforting.