Headmistress' Message
---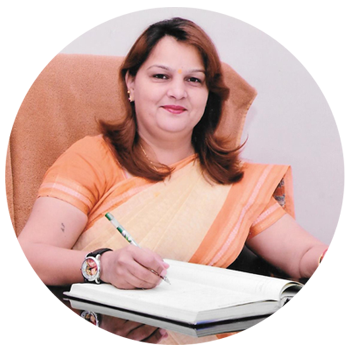 Over the years, JANKIDAS KAPUR PUBLIC SCHOOL has grown and secured a position of repute. It is acknowledged as a premier institution in the field of lower primary education.
A school where academic learning, character training and inculcation of moral values in young children form an integral part of the school curriculum. The students are encouraged to explore their talents and achieve their fullest potential in the most innovative ways. While the school endeavors to keep abreast with the latest technologies in education, various cultural activities are organized to establish a meaningful connect with the vast and glorious heritage of our country.
When eager learners enter the school portals with happy faces, the premises resonate with positive energy, one feels assured that the legacy of the founder is being realized in its true spirit and the journey so far has been worthwhile.
Let us all pledge to give hope and wings to the dreams of every child, bridging the gaps with love and warmth.
Dr. Aditi Sirohi
Headmistress
JDKPS, Sec-14, Sonipat